GUANGZHOU, China – Nov. 14, 2019 - NetEase Games is celebrating thesecond anniversary of Rules of Survival, the popular mobile battle royale with over 280 million downloads globally. A special in-game event will be held between the 13th to the 27th of November featuring 2 newly introduced game modes, Score Royale andHero Mode and limited time in-game giveaway events, Rules of Survival(ROS) wants to celebrate its 730 days of memorable moments with players.
This ROSversary update Includes:

The Score Royale that brings about a 20v20 team fight for the first time in the game. This mode will test out players tactics, a single mistake might lead to an ambush. The tide of battle will change in the blink of an eye, everything needs to be quickly decided. Score Royale also supports custom mode for more fun.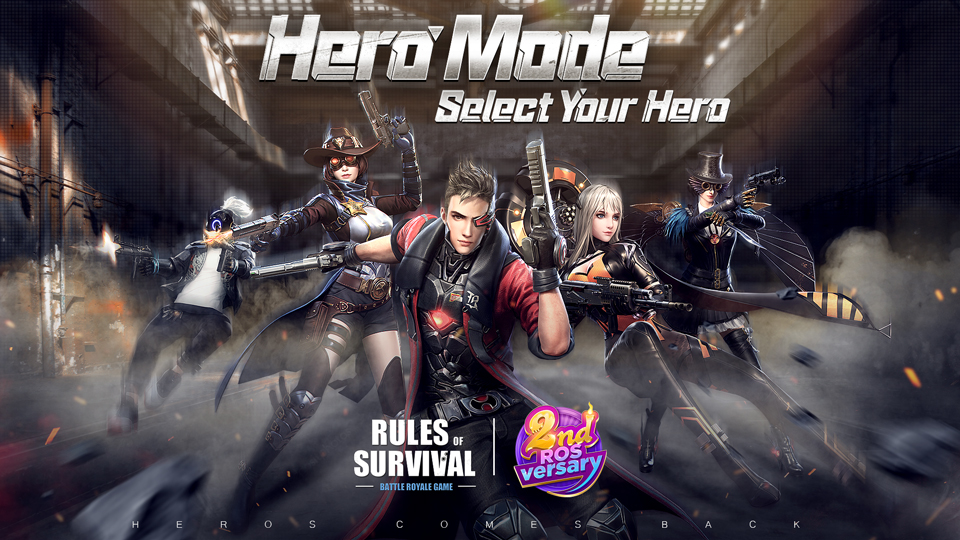 The Hero Mode allows players to select among 10 heroes specialized with unique skills to fight on Ghillie Island. Each hero has a different tactic, it is players' job to choose one and fight to the end!
Loads of new exclusive looks will be added to the shop during ROSversary, including the Demolisher set. Some of the new looks will grant an unprecedented transform ability. Hyper Sonic, for example, has the ability to transform into a sports car during matches.

ROSversary Supply makes all items from past supplies available again. In addition, a series of ROSversary related items, including new ROSversary Avatar Frame and Name Card, will be available.

During ROSversary, Airdrops will come with diamonds. Each brave player who fights for airdrops will get a chance to obtain abundant diamonds.
A 40% extra bonus with first top-up, which is the biggest bonus ever in 2 years since the launch of the game. It's now or never!

ROSversary Patintero will be launched during the event. The game is based on local Patintero rules played by every Filipino child. Players can get ROSversary Luck Chips by playing and redeem more ROSversary new items!
Sharing it on SNS and inviting friends will add more bonus for the fun!

During ROSversary, daily login rewards will be updated with free diamond rewards. The original normal daily login rewards will still be retained. Players can receive double rewards after logging in the game, which is a once-a-year opportunity that no one can miss!
Join the ROSversary party today! Download here:
https://go.onelink.me/uswC/5cbd787e
For more information, follow ROS online:
Official website: https://www.rulesofsurvivalgame.com/
Facebook: https://www.facebook.com/RulesofSurvival
Twitter: https://twitter.com/RoS_Mobile
Instagram: https://www.instagram.com/rulesofsurvivalmobile/
YouTube: https://www.youtube.com/channel/UCfklGBZeS58wZDX97hSTnhg
About NetEase Games
NetEase Games is the online games division of NetEase, Inc. (NASDAQ: NTES), developing and operating some of the most popular PC-client and mobile games in markets including China and Japan. As one of the world's largest incubators of quality online game content, NetEase Games is dedicated to supporting the growth of innovative studios around the globe and growing an international presence along the way. To complement its self-developed games and world-class R&D capabilities, NetEase Games also partners with other industry leaders including Blizzard Entertainment, Mojang AB (a Microsoft subsidiary) and other global game developers to operate some of the most popular international online games in China. For more information, please visit neteasegames.com.
Follow Us on Social Media:
Facebook: https://facebook.com/NetEaseOfficial
Twitter: https://twitter.com/NetEaseOfficial
Official Website: https://www.neteasegames.com/
Media Contacts
NetEase, Inc.
Li Ruohan
Tel: (+86) 571-8985-3378
globalpr@global.netease.com
NetEase Games PR
Tel:(+86)20-85105420
neteasegamespr@global.netease.com