GUANGZHOU, China – July 13, 2022 – Badlanders, the all-new competitive survival looter-shooter developed by NetEase Games, has officially kicked off its Season 4: Neon Invader today. This game, which features an innovative escape mechanism and a unique mode to compete for wealth, has become wildly popular in Southeast Asia areas since its launch. With the start of the new S4, the Badlanders experience will be taken to a whole new level. Players can go to any major app store to download the game and begin a neon journey!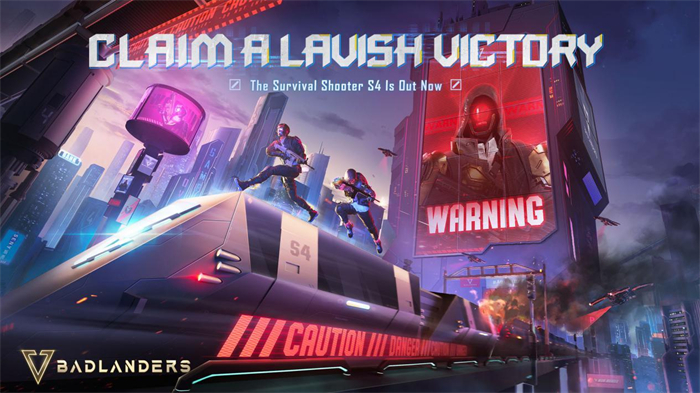 New Season Begins
Badlanders S4: Neon Invader has officially begun. Can Red Beach Shelter bear the brunt of an invasion by a mysterious force? Massive content awaits exploration. Players can win the new MK14 firearm by defending headquarters against the looter boss invasion, or compete with friends for the title of champion in the all-new Ace Summit Tournament. Season exclusive outfits: Singular and Trespasser as well as Firearm camouflage: Turbine and Hyperspace await players. Meanwhile, the game's graphics quality and anti-aliasing have also been improved to offer players an even better visual experience as they deal with the Neon Invader. It's time for agents to assemble and embark on a neon journey together!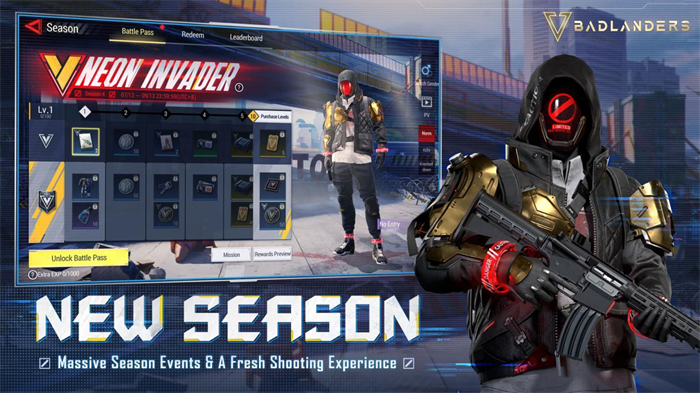 Survive & Loot, a Next-level Shooter Experience
Badlanders has garnered massive attention from players thanks to its innovative gameplay. Unlike common Battle Royale games in which players fight to be the last one standing, Badlanders revolves around looting. After entering the game, players can achieve victory simply by evacuating from the escape points scattered across the map. Winning is no longer the privilege of a single player or a team. Players are not there to become the last one standing, but to loot as many resources as possible and take them out of the game to increase revenue. Players can configure their weapons and equipment at will before entering the battlefield. That being said, nothing is guaranteed, no matter what players decide: Taking all top-level equipment doesn't equate wealth, as it may very likely become someone else's prized possession early on if players are not careful; meanwhile entering the battlefield without any equipment might lead to players escaping with a fortune. Make a fortune, or end up with nothing? It all depends on strategy and skills in this new season.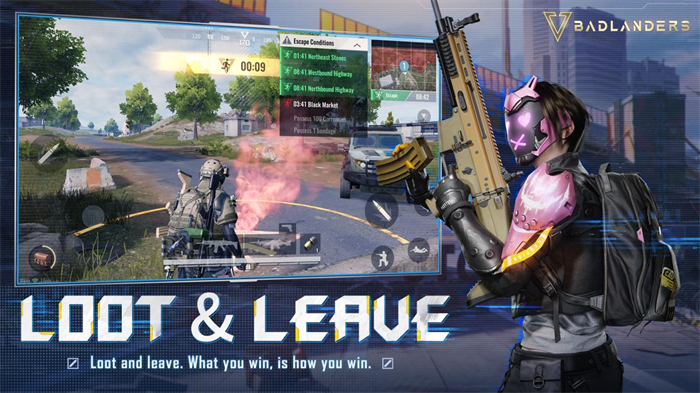 Trade As You Wish, Feel the Joy of Accumulating Wealth
In addition to the survive & loot gameplay, Badlanders also features a highly free development mechanic. Players can earn game currency by trading supplies with each other to purchase more powerful equipment through the in-game free trade system. Meanwhile, the workshop allows players to purchase materials at a low price to craft their own exclusive equipment. There are endless methods to generate revenue and for players to truly enjoy the joy of accumulating wealth.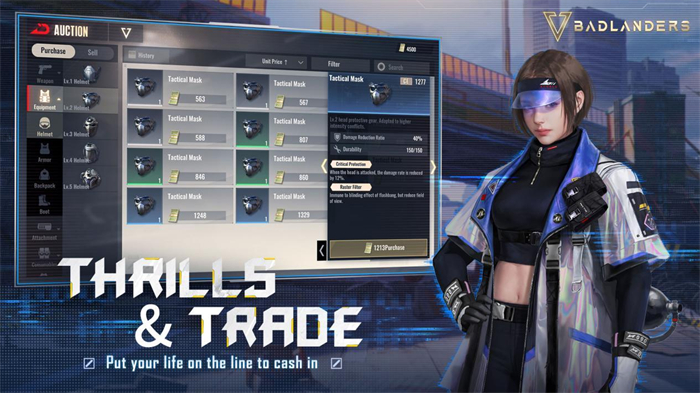 Diverse Gameplay, Something for Everyone
The diverse gameplay provides a variety of options to accumulate wealth. With various maps in the game, players can slowly accumulate wealth in the vast desert, face off against enemies in an indoor map, or travel to and from the large Red Beach building to seek the best equipment hidden in the code room. In addition, the various modes bring players increased joy: They can go guns blazing in Arena Mode, experience the asymmetrical team match in Huntsman mode, and challenge this season's new Ace Summit Tournament and new boss. Highly free battlefields and varied gameplay modes await players to explore.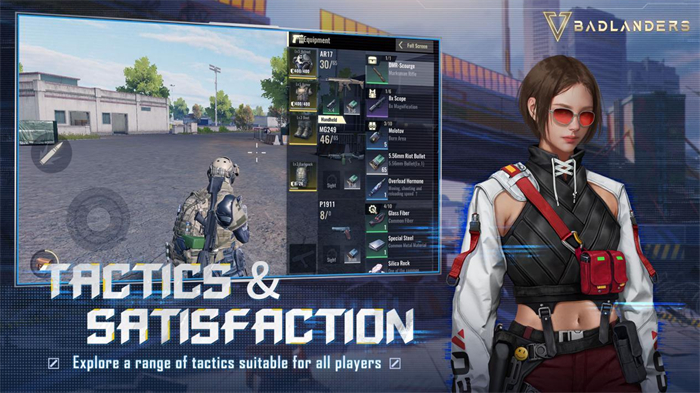 Massive Events in the New Season
In addition to the launch of Neon Invader, the Badlanders' team has also prepared many events. Starting from July 13, players can unlock the CE Supply Box by inviting friends to join their squad. Rewards will also include Energetic Era Outfit Trial Cards, Room Cards, and Cashpoints. Join the event to claim rewards!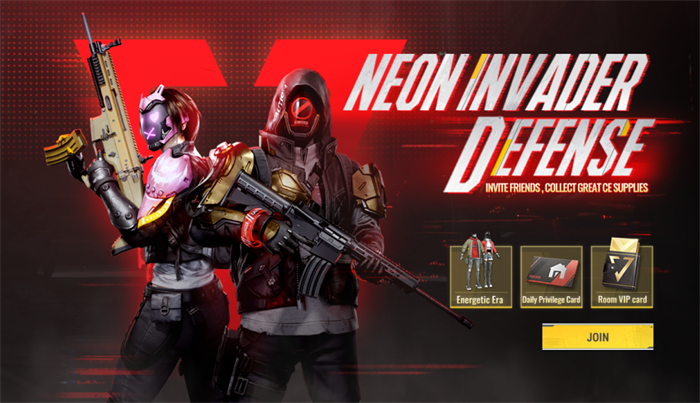 Join the Looting Journey and Resist the Neon Invader
Badlanders is now available to download on all major app stores. Begin a rich journey and face off against the Neon Invader together! Remember to stay tuned on official Facebook and Discord channels to receive the latest event information and game news at any time.
To learn more about Badlanders, please visit:
Dowload:https://shelter.onelink.me/p5Qc/dfce07a5
Official Website:https://www.badlanders.game/
Facebook:https://www.facebook.com/BadlandersEN
Discord:https://discord.com/invite/badlanders/login
About NetEase Games
NetEase Games is the online games division of NetEase, Inc. (NASDAQ: NTES and HKEX: 9999), developing and operating some of the most popular mobile and PC games in markets including China and Japan. As one of the world's largest incubators of quality online game content, NetEase Games is dedicated to supporting the growth of innovative studios around the globe and growing an international presence along the way. To complement its self-developed games and world-class R&D capabilities, NetEase Games also partners with other industry leaders including Blizzard Entertainment, Mojang AB (a Microsoft subsidiary) and other global game developers to operate some of the most popular international online games in China. For more information, please visit neteasegames.com.
Follow Us on Social Media:
Facebook: https://facebook.com/NetEaseOfficial
Twitter: https://twitter.com/NetEase_EN
Official Website: https://www.neteasegames.com/
Media Contacts
NetEase, Inc.
Li Ruohan
Tel:(+86) 571-8985-2668
globalpr@service.netease.com
NetEase Games PR
Zhou Zhaoxi
Tel. (+86) 20-85105163 ext.57169
neteasegamespr@global.netease.com
David Wilson
Tel: (+44) 7785-222228
david.wilson@corp.netease.com