GUANGZHOU, CHINA, December 14th, 2022 -Badlanders, NetEase Games' next-generation survival looter shooter, has launched its 6th Season, ERA OF EMBERS. Since its release, gamers across Southeast Asia have greatly enjoyed the revolutionary mechanic that allows players to keep the loot they find. Season 6 will double down on the fun by releasing new treasures and features for another reinvigorating seasonal experience. Visit iOS App Store, Google Play, and other mainstream app stores to download the game and begin an all-new adventure TODAY!
Season 6 Offers New Treasures & Amps Up the Thrill Factor
Badlanders Season 6, ERA OF EMBERS, is now live! Your journey to fame and fortune is even more treacherous and challenging than ever.
Season 6 welcomes an all-new treasure class — Collectibles. Agents can now collect Collectibles and Blueprints by progressing through the story, completing missions, climbing the Season Leaderboard, and more. Feel free to display these Collectibles in your base and receive attribute bonuses to give yourself an edge in combat.
The new season also debuts Heirlooms, which symbolize the highest honor in the game. Heirlooms are the rarest items in Badlanders, and each comes with its own serial number. Each Heirloom Avatar/Firearm Camouflage is also one-of-a-kind! Nothing makes you stand out more than wearing a unique Heirloom or displaying them on your Wall of Honor. Besides adding to your personal style and serving as a bragging right, Heirlooms Collectibles also provide bonus attributes on the battlefield! Authenticate and showcase your Heirlooms in the Heirloom Gallery or trade it in the Auction House — the choice is yours! They double as prized possessions and excellent investments.
Join Season 6 and claim Red Beach Camouflage Boxes for a chance to win one of the following Heirlooms: Avatar "Strife Portrait," Camouflage "Ivory Amaranth," Collectibles "Ace Summit Gold Cup," "Ace Summit Silver Cup," "Ace Summit Bronze Cup," and "Skyfire".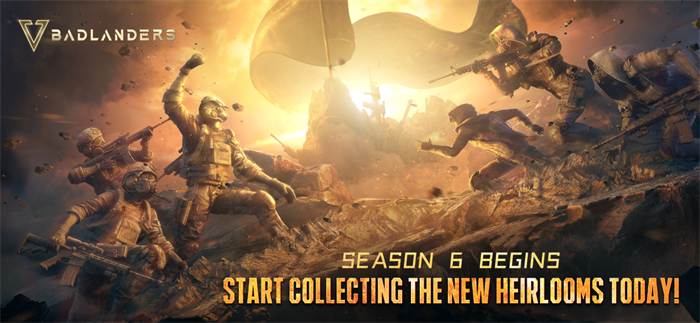 New Season Brings Nonstop Excitement
Season 6 introduces the Base System, providing each player with their own shelter. Feel free to decorate your base in any way you like with our vast selection of furniture and decorations, and visit your friends' base for a tour and some leisure time between matches. Each base also features a Wall of Honor to show off your Collectibles and receive the attribute bonuses they come with.
Season 6 is also raising the stakes by introducing the new Faction System! Join a Faction and complete their Missions to earn various faction-exclusive rewards, including Avatars, Outfits, and more. Would you join the nomadic warriors "Shepherds of the Wolves" or the urban crusaders "Pale Knights"? Make your choice in the new season, and be ready to fight for the glory of your new Faction.
Are you ready to unveil the hidden secrets of Red Beach? Season 6 will lead you on a journey to reveal the unknown past of Red Beach with its new Story System. Collect Clues to unlock "Mechanical Goggles," AR-AKM Camouflage [Spring Dawn], and many other supplies!
Have we mentioned the new MP7 and season-exclusive outfits/events? Season 6 is full of surprises and jam-packed with new content. Get ready and discover them all!
An Innovative Looter Shooter Experience
Badlanders' innovative gameplay has garnered the attention of gamers worldwide. Different from the typical "winner-takes-all" battle royale format, Badlanders' primary objective is loot and loot only. From the moment players enter the battlefield to exit the Escape Points, the sole objective is to scavenge as many resources as possible and bring home the prize alive. Players are free to personalize their loadout before a match and choose to either go armed to the teeth or butt-naked. Just remember — the higher the risk, the greater the rewards. Managing risk and reward is the name of the game.
Player-Driven Economy
Badlanders' player-generated economy is one of our most captivating features besides the loot mechanics. Enjoy the highest degree of freedom with our in-game Auction House and list anything and everything you find on the battlefield without price restrictions, allowing a multitude of ways to make a fortune. Some choose to keep a close eye on the market and play with supply and demand, while others utilize the Workshop System to craft customized items and grow their assets. Whichever way you enjoy trading, Badlanders provides.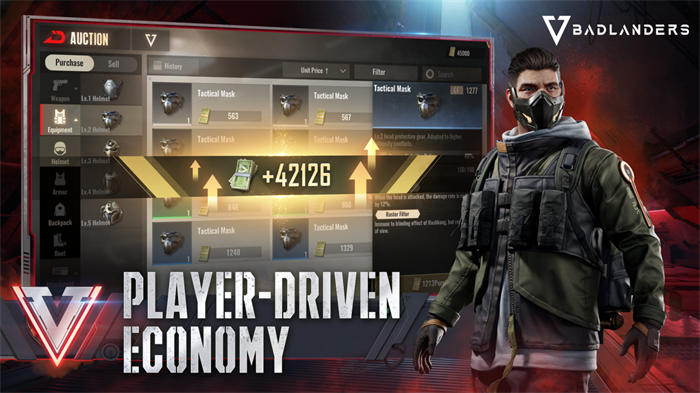 Wide Variety of Game Modes & Features
Badlanders offers a variety of game modes for players to amass their wealth. Venture to the desert in search of buried treasures, engage in gunfights entirely indoors, or explore buildings looking for rare equipment behind locked doors — if you could think of it, Badlanders has it. We also offer an array of casual modes for a fun and entertaining experience with your friends. Try out our fast-paced shootouts in Arena mode and exciting asymmetric team deathmatch in Energy Hunter mode.
Lose yourself in our Attribute System, which provides equipment with over 100 extended attributes. The hunt for the perfect equipment never ends, and no matter what types of gameplay features you enjoy the most in a looter shooter, Badlanders got you covered!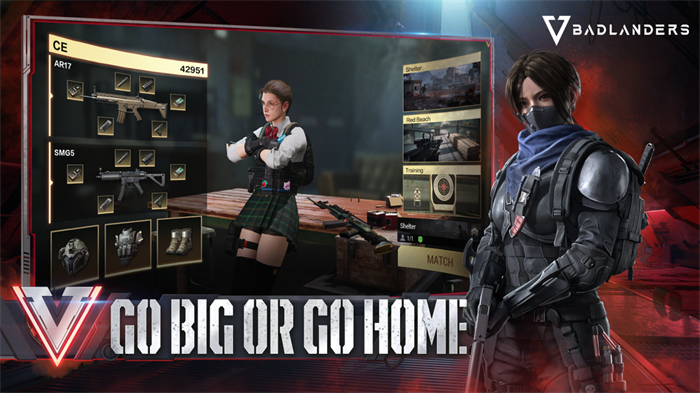 Begin An Once-in-a-lifetime Experience
Badlanders is available on all major app stores and platforms. Join us in an electrifying treasure-hunting adventure rife with danger and opportunity, and be sure to follow our Discord and Facebook page to stay up to date with the latest news.
To learn more about Badlanders, please visit:
Download: https://shelter.onelink.me/p5Qc/dfce07a5
Discord: https://discord.gg/badlanders
Facebook: https://www.facebook.com/BadlandersEN
Official Website: https://www.badlanders.game/
About NetEase Games
NetEase Games is the online games division of NetEase, Inc. (NASDAQ: NTES and HKEX: 9999), developing and operating some of the most popular mobile and PC games in markets including China and Japan. As one of the world's largest incubators of quality online game content, NetEase Games is dedicated to supporting the growth of innovative studios around the globe and growing an international presence along the way. To complement its self-developed games and world-class R&D capabilities, NetEase Games also partners with other industry leaders including Mojang AB (a Microsoft subsidiary) and other global game developers to operate some of the most popular international online games in China. For more information, please visit neteasegames.com.
Follow Us on Social Media:
Facebook: https://facebook.com/NetEaseOfficial
Twitter: https://twitter.com/NetEaseGames_EN
Official Website: https://www.neteasegames.com/
Media Contacts
NetEase, Inc.
Li Ruohan
Tel:(+86) 571-8985-2668
globlpr@service.netease.com
NetEase Games PR
Zhou Zhaoxi
Tel. (+86) 20-85105163 ext.57169
neteasegamespr@global.netease.com
David Wilson
Tel: (+44) 7785-222228
david.wilson@corp.netease.com