The universe of Cygnus Enterprises can finally be explored on PC in early access, allowing players to take their first step into its expansive sci-fi universe.
GUANGZHOU, China – (December 16th, 2022) – The sci-fi action RPG/base management title Cygnus Enterprises is now available in Early Access on Steam for $19.99 with 25% discount. Cygnus Enterprises tasks the player with building settlements on an alien world and defending them from the alien lifeforms that inhabit the planet. Developed by Team Miaozi for PC, Cygnus Enterprises combines action RPG, and base management elements into one package, where the player acts as the protector and overseer of settlements on a dangerous planet.
Cygnus Enterprises is set in the far future, where humanity's ability to explore the galaxy was stymied by the limitations of spacefaring technology, preventing mankind from spreading its influence to the stars. The eponymous Cygnus Enterprises finally gave humanity the ability to truly explore space, when it invented ships that could move faster than the speed of light, allowing pioneers to travel to worlds that were previously beyond their reach. The player takes on the role of a contractor in service to Cygnus Enterprises, who is tasked with restoring a derelict outpost on the remote planet Mytilus and ensuring the safety of its residents. Not everything is as it seems on the planet Mytilus, however, as the player slowly uncovers the secrets of a civilization that existed in the world in ancient times.
Cygnus Enterprises is a single-player game that merges different genres and gameplay styles. The game features top-down shooter/action RPG combat gameplay, where the player must fight hordes of aliens and explore dangerous environments. For a settlement to thrive, the player can forage materials in the world, but these are defended by the wildlife in the region. Players must blast the enemies with an array of firearms and special powers while relying on their reflexes to avoid deadly attacks.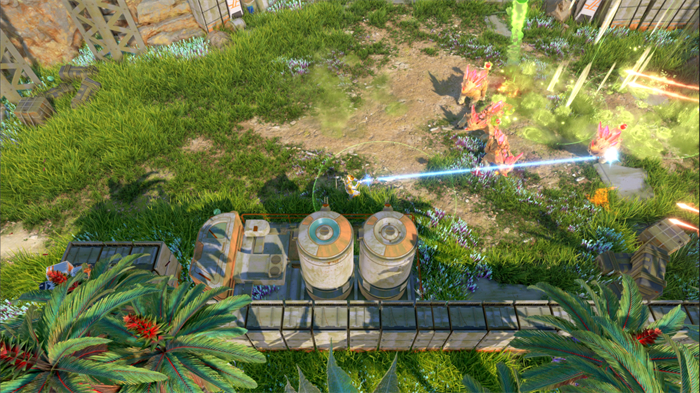 It's not just the player's abilities that can be fine-tuned in Cygnus Enterprises, as their loadout can also be customized. Cygnus Enterprises feature hundreds of unique items and more than fifty weapons to loot, craft, and trade. All of this gear can be improved through the game's upgrade system, allowing players to make stronger weapons and more effective gear. The player isn't alone on their mission, as they can bring along a Personal Electronic Assistant, or PEA for short. These are drones that can collect resources in the field, organize storage space, increase productivity in a settlement, and more. The PEA also provides tactical data to the player in combat, as well as reviving the player in a new body in a Cloning Facility, should they perish out on the field.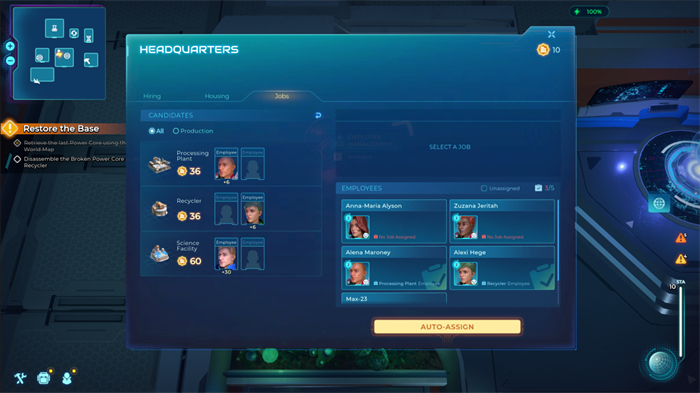 The player character in Cygnus Enterprises has access to ten masteries that are linked to different weapon types, and using them will increase their mastery level. These masteries can also be improved by harvesting components and crafting new items in the base. Cygnus Enterprises features six character classes: Security, Pilot, Medic, Engineer, Socializer, and Scientist, each with its corresponding attributes and skill tree. A player who earns masteries can gain character levels, allowing them to gain attribute points and skills for their class. Attributes grant passive boosts and increase the effectiveness of their gear, while skills let them unleash new attacks in combat. Players can customize their character build in several ways, as they can take multiple classes and mix and match their skills. There is also the option to respec a character in the Cloning Facility and create a whole new play style.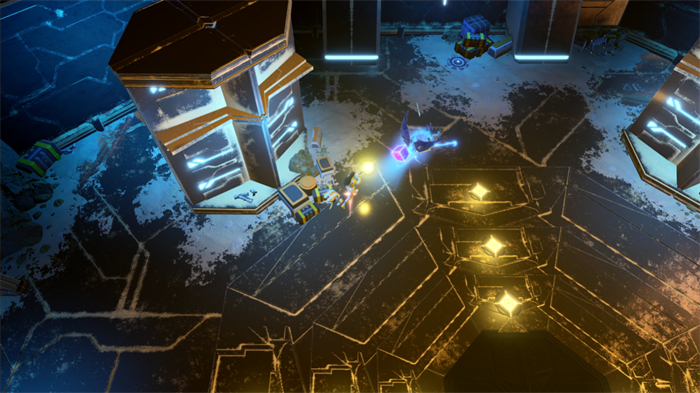 A big part of Cygnus Enterprises involves planning and building settlements in the City Management phase, managing the settlers and staff members that have come to make a new life on Mytilus and using the facilities to improve their effectiveness in the field. A well-designed base will have a better chance of surviving against the inhabitants of Mytilus and a happy settlement will ensure the smooth operation of the player's mission.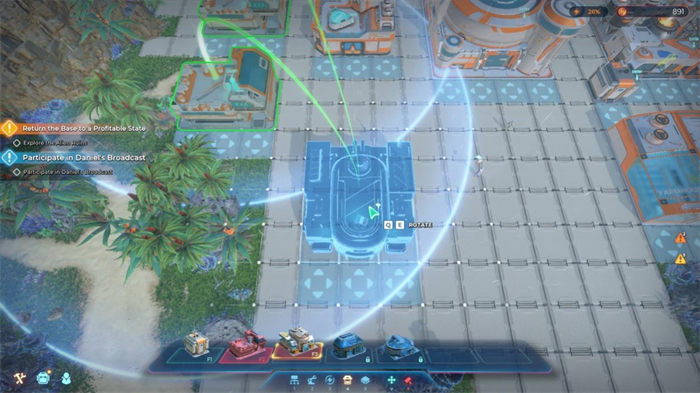 When crafting Cygnus Enterprises, the developers at Team Miaozi wanted to show a positive future, where mankind lives in peace and co-operates, as it explores the galaxy. Cygnus Enterprises takes inspiration from the Star Trek franchise, with a game world that is filled with optimism for humanity's potential. The creators of Cygnus Enterprises have discussed their design philosophy behind its universe and what they hoped to achieve with their setting and its depiction of a brighter future.
"Cygnus Enterprises is a positive sci-fi game, recently we noticed that most of the futuristic games opt for a pessimistic, post-apocalyptic, or decadent view. We grew up with Star Trek and we always regarded the future with optimism. Cygnus depicts a bright future, with beautiful environments and a positive setting."
Cygnus Enterprises is now available in early access on Steam for $19.99 in both English and Simplified Chinese, with around 12 hours of story content available. That only applies to the main story missions, with the player able to explore the game world to their heart's content. The early access version of Cygnus Enterprises will also be receiving new content in future updates. The mysteries of planet Mytilus are waiting to be uncovered and players can take their first step into the unique universe of Cygnus Enterprises today on PC!
To learn more about Cygnus Enterprises, visit:
● Twitter:https://twitter.com/cygnus_game
● Website: www.cygnusgame.com
● Discord: https://discord.com/invite/uvd4PVtS47
● Reddit: /r/CygnusGame/
● Steam Page: https://store.steampowered.com/app/1963520/Cygnus_Enterprises
About Cygnus Enterprise & Team Miaozi
Cygnus Enterprises is a sci-fi management & action RPG developed by Team Miaozi.
In the far future, humanity reached for the stars. However, with only primitive spacefaring technology, the age of space exploration ended before it could ever truly begin. That all changed when Cygnus Enterprises developed their faster-than-light ships. Settling Earth-like plants across the galaxy is now within humanity's grasp. Cygnus Enterprises recruits the player as a contractor and tasks them with repairing a derelict outpost on the remote planet Mytilus.
Team Miaozi founded in 2019 in Shanghai, is an international team of developers consisting of over 12 different nationalities and backgrounds. It's built on a foundation of industry veterans with backgrounds in AAA PC game development and has put a large focus on finding and developing new talents. It is rare for new teams to be granted the chance to create an experimental, high-value cross-genre game like Cygnus Enterprises.
Media Contact
NetEase, Inc.
Li Ruohan
Tel: (+86) 571-8985-2668
globalpr@global.netease.com
NetEase Games
Zhou Zhaoxi
Tel:(+86) 20-85105163 ext.57169
neteasegamespr@global.netease.com
David Wilson
Director of Public Relations EU
david.wilson@corp.netease.com
Alex Armour
Director of Public Relations US
alexarmour@corp.netease.com