ZOZ: Final Hour launches in Bolivia, Colombia, Malaysia, Mexico, and Peru today, alongside a new Crystal Pass that has special rewards for players to earn on the battlefield.
GUANGZHOU, China – (January 12th, 2023) – NetEase Games is proud to announce that ZOZ: Final Hour is officially launching today. The 1.12 Launch Release is available to download now in Bolivia, Colombia, Malaysia, Mexico, and Peru. The launch of ZOZ: Final Hour also coincides with a brand new season and associated Crystal Pass, with special gear for players to earn.
ZOZ: Final Hour Introduction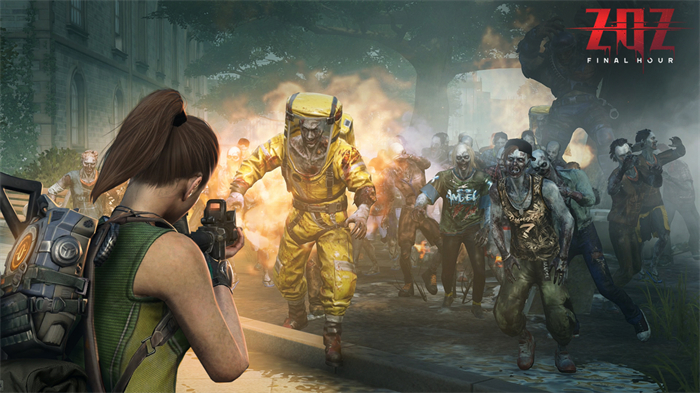 ZOZ: Final Four is a third-person shooter game with a twist, set in a world that is overrun with the living dead. The only hope for mankind's salvation lies in a substance known as Blood Crystals, but these can only be found in locations that are swarming with undead. The players act as Mercs, who must perform extraction missions in the city of San Yager, to acquire Blood Crystals and bring them back to base. Players must use a combination of their gunplay skills and Tactical Gear to survive, as they are outnumbered by the undead of San Yager, but those who can keep their cool under fire can prevail against the horde. One of the most exciting aspects of ZOZ: Final Hour is that players are mercenaries, who can betray each other in exchange for better rewards at the end of the mission. This is a high-risk play, however, as dead players will rise as Zombie Mercs, who possess special abilities that will let them get revenge on those who slew them, leading to a PvE game turning into a PvP free-for-all, as the living players and the dead players clash on the battlefield.
Crystal Pass season kicks off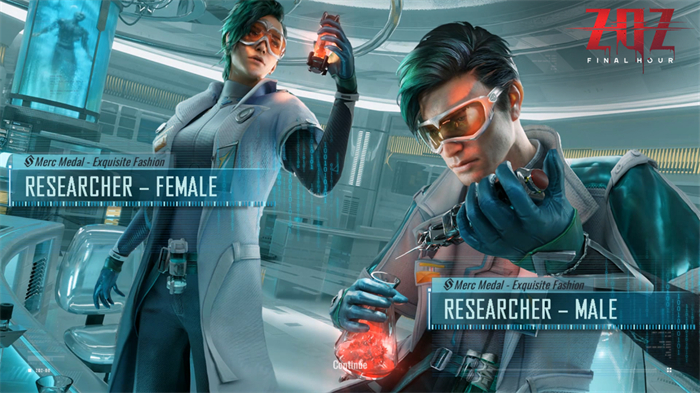 The launch of ZOZ: Final Hour is happening alongside a new Crystal Pass season, which is available to purchase now. The theme of the new Crystal Pass is "Undercover Research" and players can unlock new Weapon Skins for the Bow and MSR Sniper Rifle, the Stretch and Silence Emotes, a new Avatar Frame, and the Researcher and Genetic Code Featured Clothing. The latest Crystal Pass runs from January 1st to January 26th, giving players plenty of time to acquire this new gear and take on missions in style!
Special giveaway events with rich rewards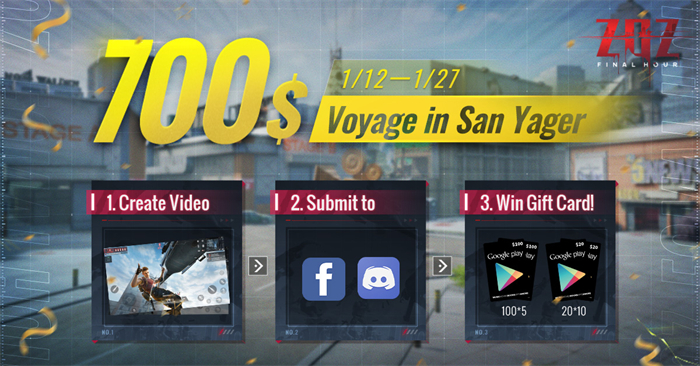 To celebrate the launch of ZOZ: Final Hour, the social media accounts for the game will be holding special giveaway events for the online community that has been supporting the game. Those who follow the official ZOZ: Final Hour social media accounts will have the chance to win Google Play gift cards, as well as in-game rewards, to deck out their character in gear during the launch period of the game.
Fans have already had a chance to experience ZOZ: Final Hour during its beta tests and the developers have integrated their feedback into the official launch version of the game. The gates of San Yager have been torn open, allowing all players the chance to venture into its streets in search of glory and treasure. Not everyone is destined to be a hero, as a dark fate hangs over the players, and they may have to join the ranks of the dead, as they hunt for the living.
To learn more about ZOZ: Final Hour, please visit:
Download: https://zoz.onelink.me/nGji/osojvm0g
Official Website - https://www.gamezoz.com/
Facebook – https://www.facebook.com/ZOZFinalHour
YouTube - https://www.youtube.com/channel/UCRRMPUiCL1SdG0DgXoPKdeg
Discord – https://discord.com/invite/EncGWSEWbs
Twitter – https://twitter.com/zoz_finalhour
About NetEase Games
NetEase Games is the online games division of NetEase, Inc. (NASDAQ: NTES and HKEX: 9999), developing and operating some of the most popular mobile and PC games in markets including China and Japan. As one of the world's largest incubators of quality online game content, NetEase Games is dedicated to supporting the growth of innovative studios around the globe and growing an international presence along the way. To complement its self-developed games and world-class R&D capabilities, NetEase Games also partners with other industry leaders including Mojang AB (a Microsoft subsidiary) and other global game developers to operate some of the most popular international online games in China. For more information, please visit neteasegames.com.
Media Contact
NetEase, Inc.
Li Ruohan
Tel: (+86) 571-8985-2668
globalpr@global.netease.com
NetEase Games
Zhou Zhaoxi
Tel:(+86) 20-85105163 ext.57169
neteasegamespr@global.netease.com
David Wilson
Director of Public Relations EU
david.wilson@corp.netease.com
Alex Armour
Director of Public Relations US
alexarmour@corp.netease.com