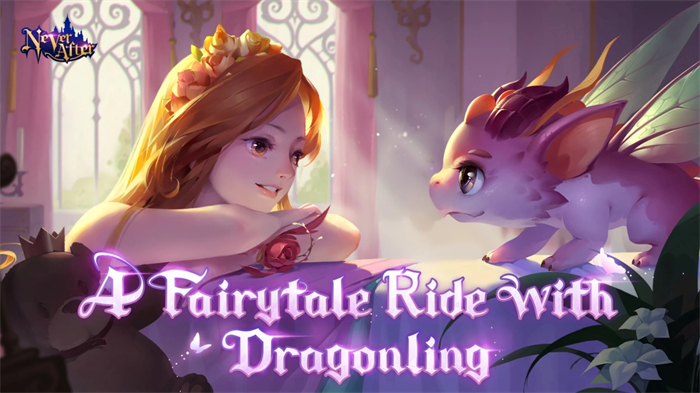 You need not face your fairy tale adversaries alone, as the powerful Dragonlings will fight alongside you in the next Never After update.
GUANGZHOU, China – (10th March 2023) – The heroes in Never After will soon be joined by powerful allies, as the next update for Never After is introducing the Dragonlings to the game, which will fight alongside the player and act as loyal companions on their quests for through the fairy tale realms. If you take care of the Dragonlings and gather many of them to your side, they will grow in power and become steadfast companions on your adventures.
Never After is the action RPG developed by Guanghe Qiyuan and NetEase Games, the online games division of NetEase, Inc. (NASDAQ: NTES, HKEX: 9999), where you explore a world where all fairy tale stories exist alongside each other. In this land, the heroes and villains of iconic stories like Cinderella and Snow White can tell a new story of their own making in the twister fairy tale realm.
The next Never After update will introduce the Dragonlings to the game. The Dragonlings are a species of 48 adorable dragons, small in stature but ferocious in battle. Each Dragonling has distinctive traits, such as the Lunarlupus, a nocturnal Dragonling with milk-colored hair that shines like the moon, or the Fairywings, which have translucent wings that reflect the colors of the rainbow. Such mighty creatures won't bow to any old Adventurer, as the player needs to reach level 95 before they can earn the loyalty of a Dragonling.
The Dragonling might be cute, but it's a force to be reckoned with when its master is threatened. The Dragonling has its own BR in combat, providing four stat effects – Dragon Fang, Dragon Armor, Elemental Break, and Elemental Block. These powers can strengthen the Adventurer or allow them to reduce or ignore damage from elemental and non-elemental attacks. If you feed the Dragonlings, these abilities become even more potent, and they will grant better passive Stat Effects.
All Dragonlings possess a Draconite core, granting them magical abilities, which differ for each creature. Unlocking this ability will increase the Dragonling's BR and strengthen them in battle. At the same time, the Dragonling will significantly enhance the Adventurer's BR stats, including HP and HIT, and increase DMG and reduce enemy CRIT DMG during a fight. Also, the Dragonling will provide post-battle bonuses to the Adventurer and increase dungeon loot and Eudemon damage.
The Dragonlings of Never After have their own unique method of gaining power: feeding and staring up. If you feed beast meat to a Dragonling, then it will level up, and its passive effects will be enhanced. Likewise, if you can acquire Draconite and Dragonling Shards, these can star up the Dragonling, and its combat bonuses will increase. The Dragonlings also fight better when they're united, so collecting all of the Dragonlings of the same Bond group will unlock Bond effects that drastically increase their damage, allowing the Adventurer to pull off deadly combos on their enemies.
Throughout the history of fairy tales, Dragons are some of the most important creatures, acting as benevolent mentors and deadly enemies. In Never After, the Dragonlings will be faithful pets, loyal soldiers, and an incredible addition to the stories you want to tell in the land of make-believe. So gather as many of the Dragonlings as you can for an adventure that you'll never forget.
To learn more about Never After, visit:
· Official Website – https://www.neveraftergame.com/m/adventure/
· Google Play - https://play.google.com/store/apps/details?id=com.netease.ysq2&hl=en_US&gl=US
· App Store - https://apps.apple.com/th/app/never-after/id1610299169
· Facebook - https://www.facebook.com/Neverafter-105873685432193
About NetEase Games
NetEase Games, the online games division of NetEase, Inc. (NASDAQ: NTES and HKEX: 9999), is a leading global developer and publisher of video game IP across a variety of genres and platforms. NetEase Games' development and publishing slate include titles such as Knives Out, Harry Potter: Magic Awakened, and Naraka: Bladepoint, and partnerships with major entertainment brands such as Warner Bros and Mojang AB (a Microsoft subsidiary). NetEase Games also supports the growth and development of its innovative global studios in Canada, Europe, Japan and the United States. For more information, please visit https://www.neteasegames.com/
Follow Us on Social Media:
Facebook: https://www.facebook.com/NetEaseOfficial
Twitter: https://twitter.com/NetEaseGames_EN
YouTube: https://www.youtube.com/channel/UC7fPAi77lcCWFUc94UHyfGg
Media Contact
NetEase, Inc.
Li Ruohan
Tel: (+86) 571-8985-2668
globalpr@service.netease.com
NetEase Games
Zhou Zhaoxi
Tel:(+86) 20-85105163 ext.57169
neteasegamespr@global.netease.com
David Wilson (EU)
david.wilson@corp.netease.com
Alex Armour (US)
alexarmour@corp.netease.com